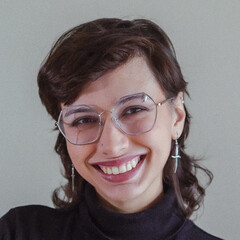 Andrea (Andy) Herrera
Digital Illustrator & Designer
Orlando, United States
Summary
Andrea Herrera is a digital illustrator and designer based in Orlando, Florida. Originally from Miami, Andrea relocated to study at the University of Central Florida and will be earning a B.F.A. in Studio Art this December. Her art is heavily influenced by visual media such as comic books, animated movies, and TV shows; their ability to connect with viewers through the art of storytelling is what she emulates through illustration.
I create visual stories through visual effects, digital drawings, and illustrations to entertain and spark a viewer's curiosity. Heavily influenced by fiction and fantasy, I have always gravitated toward epic tales outside of the realm of reality that inspire creativity and originality. I hope that my visual content prompts a viewer's desire to know more about the story and find their own personal connection with the narrative.
Skills
Drawing
Illustration
Sketching
Graphic Design
Comic Art
Character Design
Storyboarding
Cartooning
Concept Design
Concept Art
Software proficiency
Experience
Merchandise Associate at Universal Orlando Resort

Orlando, United States of America

• Support sales operations and deliver extraordinary guest service reflecting company values.

• Perform efficiently during peak seasons with a positive and professional attitude.

• Adapt to managing several tasks independently or while working on a team.

Illustration Intern at Vol Up 2 Magazine

• Produced original designs for the publication at the direction of the editor in chief.

• Consistently communicated with the editor on the creative process from ideation to execution.

• Directed the visual research, color design and rendering of each project proposal.

Contributor & Editor at Flora Fiction

• Created illustrations and wrote published articles for the main web page.

• Operated in a team environment and provided aid editing the digital magazine publication.

• Conducted work independently, met deadlines and assisted in social media content creation.